Welcome to the archive. Here you will find all my blog articles since 2019 on Acceptance and Commitment Therapy, Process-Based Therapy, new advances in psychology, personal stories, and much more. You can find all my blog articles in reverse chronological order. Enjoy.


The holidays are often the time of year where family comes together. Distant and close relatives show up …

If you get lost in painful thoughts and feelings, it often helps to do this simple technique.

When you ask high achievers why they succeed where others fail, they often reply with what psychologists call "self-efficacy" – …

The history of psychedelics is deeply intertwined with the history of humanity. Indigenous cultures often ingested hallucinogenic substances in spiritual …

When you think about visiting a therapist for the first time, you might feel quite uncomfortable. After all, why should …

Why does psychotherapy work? Until relatively recently, many scientists studying methods of improving mental and behavioral health have delayed answering …

The internet is full of advice. I've written a few self-help books myself and I've created many scores of blogs …

Life is constantly teaching you to be smarter and wiser. With every consequence you face, you learn more about which …

Imagine you had a friend who is there for you whenever you need them. Someone who cares about you, who …

Doing what matters comes with pain. But we can learn to be more effective about it. Here's how.

Why do we lash out at our partner, when we want to be kind and caring? Why do we isolate …

How To Cope With The Trauma of War (1 of 5)

The Rise of Fast Food Meditation
Get exclusive access to my podcast Days Are Getting Better and my best content straight to your inbox. Your information is protected and I never spam.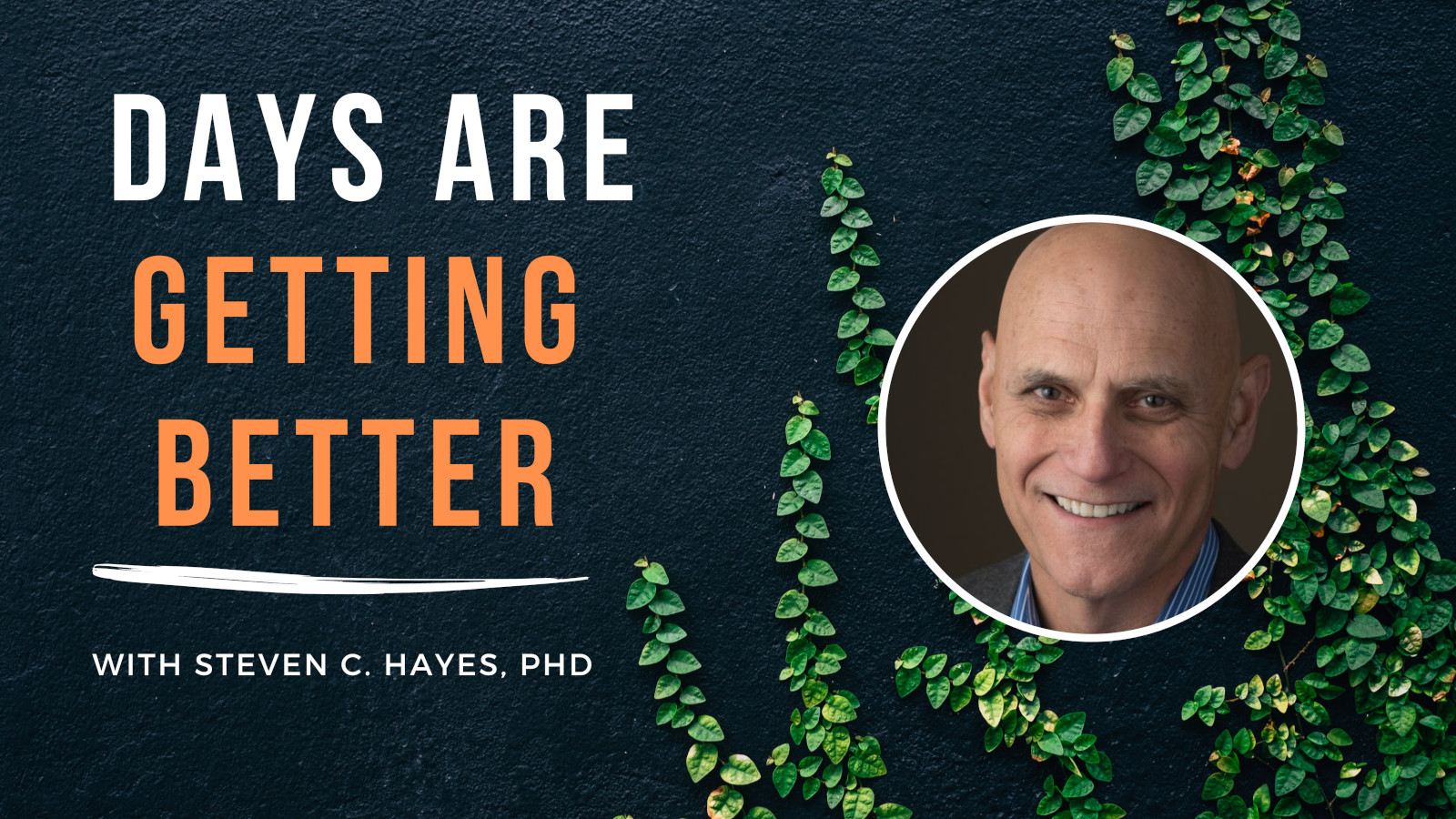 It's nearing the end of October, and Halloween is about to begin. This is the time of monsters. The time …

Why You Are Not Who You Think You Are

How to deal with what feels hard and difficult.

The Importance of Flexible Strength

In 100 years, no method could reliably improve people's Intelligence. Until now.

How A Small Gesture Changed My Life

Emotions seldom do what we want them to. Here's what you can do to get in control.

The Life Lesson Hidden In My Signature

Emotions are like the warning signal's on your car's dashboard. Here's why you use them wrong.

Why we are all misled by statistics


When people talk about love, they often mean the intense kind of involuntary emotional states you "fall" into that go …

I drove my son on a 25 minute ride to his Dojo for his karate class tonight. I waited and …
How to turn your spouse from selfish to selfless

There are few things in life more important to your overall happiness than the quality of your relationships. And among …

The one thing well-functioning families have in common

Loss can be incredibly painful, but there is something precious inside of it.


Your body knows the secret to dealing with difficult challenges. Here's how it works.


We all have people in our lives that we look up to, that inspire us, and that make us want …

Knowing your values is important for a meaningful life. But what if your values are bad?

In the 13th century, medics commonly treated mental illness by drilling a hole into a person's head, thus releasing demons …

Racism runs deep in the fabric of our cognitive networks, driven by fear, objectification, failures of perspective taking, and self-avoidance. …

The Corona pandemic is a mental challenge. Here's how to come out on top!

How staying at home can affect your mental health, as well as what you can do about it.

There is a scientifically proven trick to getting control over your bad habits.

We all have goals we want to achieve and habits we want to change. Yet too often we stand in …

Decades ago, as a rising academic, I had to choose between two universities: The prestigious Washington University in St. Louis, …

I've taught dozens of people to play the guitar, and I've learned to predict who will learn to play well: …

I once had a client who, when asked about her deepest values, paused for a long time, before she finally …

A song I like to listen to reminds me in its lyrics that in 5 billion years the Andromeda galaxy …

The human mind is a problem-solving machine. It can come up with creative solutions for the most complex problems, helping …
Your mind can be your biggest enemy. On a daily basis, it spews out difficult thoughts like "I'm not good …

What do you think is the most frequent complaint when people seek therapy? In my experience, it is a variant …

We all yearn to belong to others. You can see it in infants who cry out for their mother. You …
Question #1 What is the central theme of the book? The central theme of A Liberated Mind is that …

How to increase your chances at success dramatically.

How to escape the prison of your mind and enjoy true inner freedom.

How to make a change when change feels impossible.

The first of January is a significant date. Not only is it the beginning of a new calendar year, it's …